JP HOTEL PROFESSIONAL DEVELOPMENT CENTER
JPMS consists of vast experienced and   successful hoteliers who have handed on the operations, management, and establishment of global accepted standards of services and work processes. JPMS has run a great number of training and development programs for international chain and local hotels including leadership group of hotels and other industries by using the team's detailed knowledge and innovative techniques to improve all aspects and levels of clients' developers, staffs, and leaders.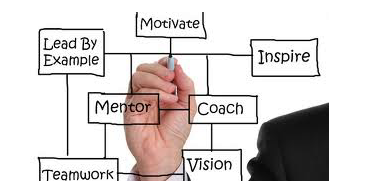 In March 2012 Ms. Chavasiri was certified as the Certified Hospitality Trainer (CHT) by American Hotel & Lodging Educational Institute (EI) which has granted JPMS to be the Official Partner of EI in Thailand. This is in addition to other certifications of which Ms. Chavasiri has been certified as international training cadre by Hilton International, Dusit Group, Marriott, and Transformation Management System in Australia.
JPMS offers various training and development programs for all hotel professionals using JPMS's developed programs, EI's Professional Certification Programs, or customized programs after Brand Standard Audit and according to vision and mission or concept of the hotel, resort, or all types of accommodations and services.
The EI Certification Programs has been designed for line staffs to senior executives including general manager; each program provides up-to-date knowledge, various guides to practice, case studies, and best practices. The programs are best used as global standard of hotel operations and management.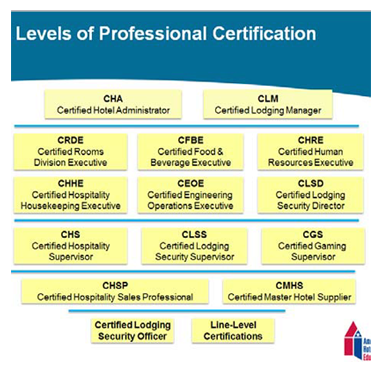 The details of the programs and intr oduction of EI are in the website The American Hotel & Lodging Educational Institute
The outlines of the programs are as follows:
-   The line staff or new hired training certification programs are for Front Office, Housekeeping, Servers

-   Supervisory Skills Builder which has been developed as a package containing training materials, best practices, case  studies, role play, and exercises or practical learning which is best to be under experienced facilitators.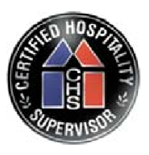 -   Department Head or Managerial Certific ation Programs are designed for each discipline such as Front Office Manager, Executive Housekeeper, Food & Beverage Manager, Executive Chef, Financial and Acco unting Manager, Sales & Marketing Manager, Security for Loss Prevention Management,  Engineering Manager, and Human Resources Manager.
-   For top executive will be certifying for CHA and CLM, Certified Hospitality Administrator, and Certified Lodging Manager.
-   Guest Service Gold Training Program or an equivalent training program offered by the property  is eligible to become a Certified Guest Service Professional (CGSP).
-   A property that certifies 100% of its line-level positions will become a Certified Guest Service Property.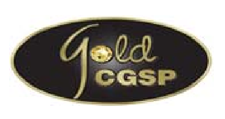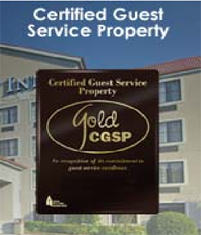 -   The property will receive a plaque to proudly display in their lobby/front desk area for guest to recognize their commitment to providing exceptional guest service.